Caterer Extrordinaire


Company Information Screen
The company information screen is designed to store your company's information.
It includes Sales Tax rates and Governmental info for the company.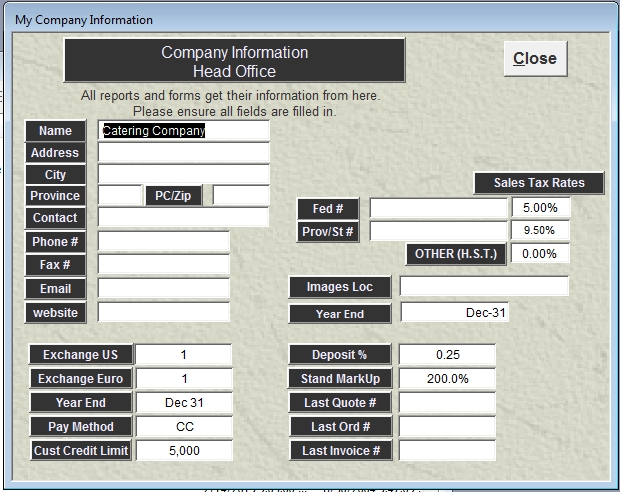 All reports and sales tax calculations are derived from information stored in this screen.

The program has a fully functioning Accounting package built in. Know your financial position with a few simple clicks of a button.
Print our Information Package about this program

Have a problem and can't find the answer on our site? Contact us at help@ ercomputers.com.
Want to know what people say about us? Visit our Comments page.
Let us know what you think about our site or want to offer any suggestions.
Contact us at esurkes@ ercomputers.com
Please do not use these addresses for solicitations, that is not what email is intended for.
We will not respond to advertisement. Thank you.
Thanks for visiting
ER Computer Services

These links will lead you into our framed website. It is best viewed at a screen resolution of 1024 x 768 dpi, however, 800 x 600 dpi will also work.
If your screen cannot handle this, please navigate using our Site Map page and your browser.
Copyright © 1999-2018[ER Computer Services]. All rights reserved.