| | | |
| --- | --- | --- |
| | Caterer Extrordinaire | |
The Print Labels screen is designed to print labels for the plates prepared for orders. In the example below, order 9289 indicates that 25 plates were prepared. If that were correct, the operator would simply click on the 'Print Labels' button. If the order needs more or fewer, the operator can change the quantity, then choose the 'Print Labels' button.
The system retains the number of labels required by order. When orders are repeated this information will appear automatically. This screen is also used when additional labels are needed.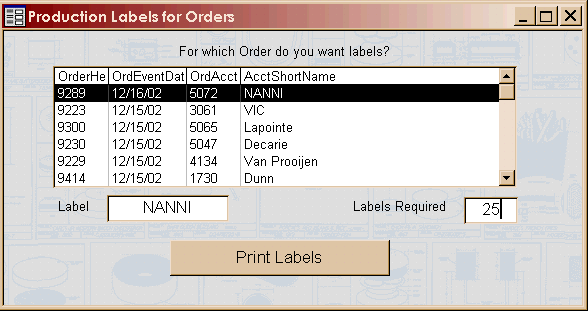 When the Print Labels button is chosen, the following screen opens and asks where to start printing the labels.
(No wasted labels!)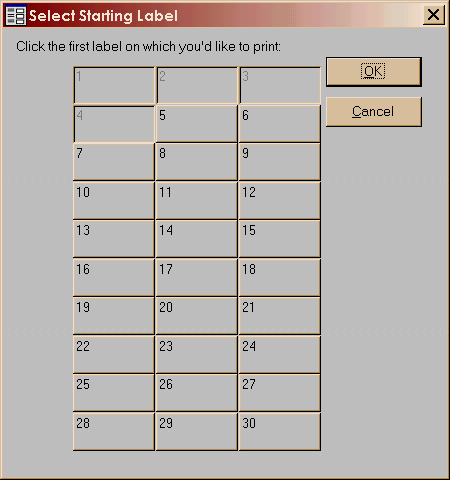 In this example, there would be one label left on the sheet after the print job.
For the next print run, the operator would begin at position 30.
These reports require that you have Adobe Acrobat Reader. If you do not have this program on your computer, please visit

to Print you free copy.
Print our Information Package about this program

Have a problem and can't find the answer on our site? Contact us at help@ ercomputers.com.
Want to know what people say about us? Visit our Comments page.
Let us know what you think about our site or want to offer any suggestions.
Contact us at esurkes@ ercomputers.com
Please do not use these addresses for solicitations, that is not what email is intended for.
We will not respond to advertisement. Thank you.
Thanks for visiting
ER Computer Services

These links will lead you into our framed website. It is best viewed at a screen resolution of 1024 x 768 dpi, however, 800 x 600 dpi will also work.
If your screen cannot handle this, please navigate using our Site Map page and your browser.
Copyright © 1999-2018 [ER Computer Services]. All rights reserved.