| | | |
| --- | --- | --- |
| | Caterer Extrordinaire | |
Production planning begins with deciding what time frame to work in.
The program is set to open showing tomorrow as both the "From" and "To" dates.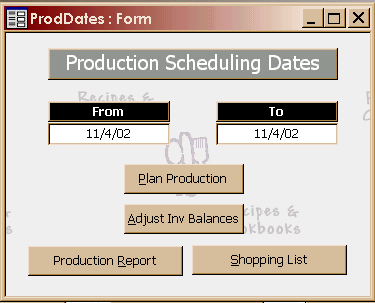 After accepting or changing the From and To dates, the user chooses one of the available options.
The 'Plan Production' button.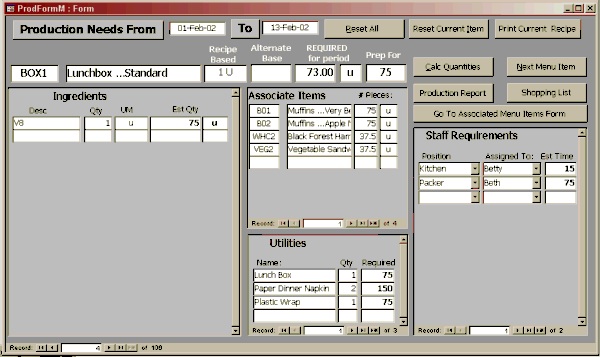 The production planner's job is to decide how much of each item to make. In this example we need 73 box lunches. We decide to make 75. Choose the 'Calc Quantities' button and all the requirements are calculated. In special cases, the use can override the retrieved ingredients and/or the calculated quantities.

Our database allows for three levels of production calculations. The main level (products) consists of items, some of which may contain other items (for example, a recipe for a cake may include another recipe for icing).

Our system is not dependent on all recipes having been input into the database before you can start working the system; productions can be entered here.

When a recipe has not been input, it is immediately obvious. The item is listed on screen, but all other fields are empty. The operator can maintain the recipe by double clicking on the menu code.
| | | |
| --- | --- | --- |
| | | |
Print our Information Package about this program

Have a problem and can't find the answer on our site? Contact us at help@ ercomputers.com.
Want to know what people say about us? Visit our Comments page.
Let us know what you think about our site or want to offer any suggestions.
Contact us at esurkes@ ercomputers.com
Please do not use these addresses for solicitations, that is not what email is intended for.
We will not respond to advertisement. Thank you.
Thanks for visiting
ER Computer Services

These links will lead you into our framed website. It is best viewed at a screen resolution of 1024 x 768 dpi, however, 800 x 600 dpi will also work.
If your screen cannot handle this, please navigate using our Site Map page and your browser.
Copyright © 1999-2018[ER Computer Services]. All rights reserved.