| | | |
| --- | --- | --- |
| | Caterer Extrordinaire | |
"This system will have your quote on your client's desk before
they have time to contact your competitor."
The system is designed to reduce input time as much as possible. With last minute changes happening constantly, users need a way to make changes quickly.
The Quotation screen is divided into four parts. Some of the key features in this screen are.
Header information is always visible and modifiable.

Quote totals and average cost per guest are shown at the top of the screen.

Drop down lists are used extensively throughout the program (a feature that eliminates countless keystrokes).

Quotes can be produced from previous quotes or from invoiced orders.

Notes can be added to each line item.

Revision are easily applied with two clicks of the mouse button.

Problem deliveries are clearly marked.

Critical customer notes and restrictions are retrieved when the customer is selected.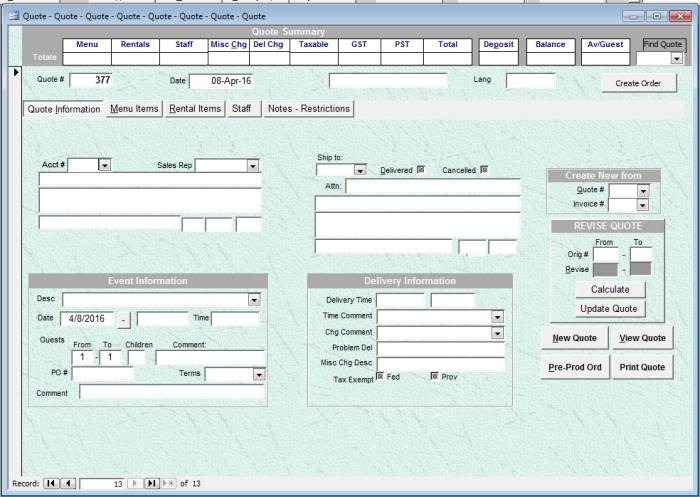 When the operator chooses the 'Menu Items' button, the bottom half of the screen shifts.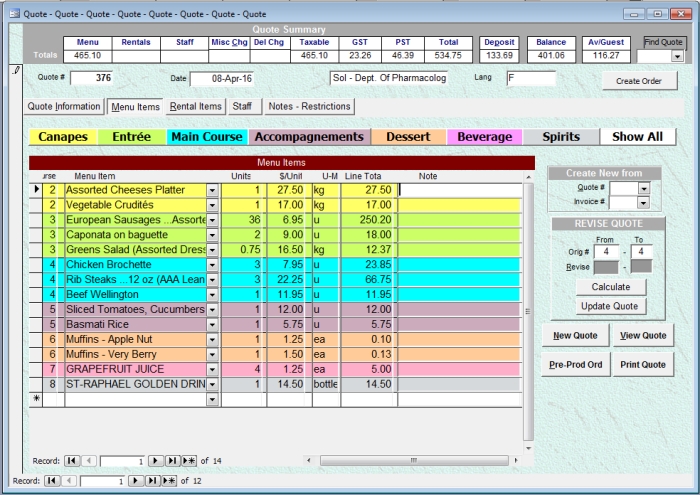 Any Rental requirements are entered on the next page.

Enter Staff requirements using the Staff page tab.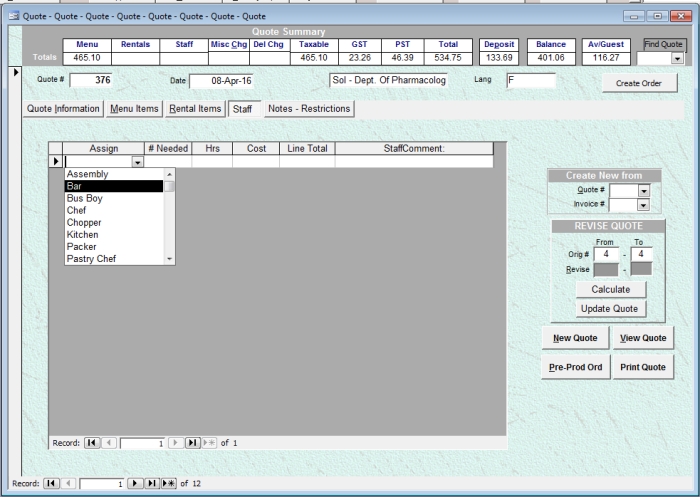 Lastly, but probably most importantly is the Notes and Restrictions page.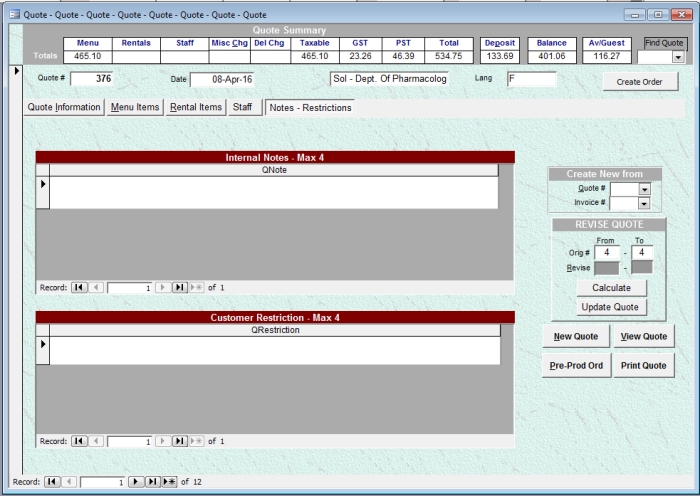 Print the Quote by choosing the View Quote button.
These reports require that you have Adobe Acrobat Reader.
If you do not have this program on your computer, please visit

to Print you free copy.
Print our Information Package about this program


Have a problem and can't find the answer on our site? Contact us at help@ ercomputers.com.
Want to know what people say about us? Visit our Comments page.
Let us know what you think about our site or want to offer any suggestions.
Contact us at esurkes@ ercomputers.com
Please do not use these addresses for solicitations, that is not what email is intended for.
We will not respond to advertisement. Thank you.
Thanks for visiting
ER Computer Services

These links will lead you into our framed website. It is best viewed at a screen resolution of 1024 x 768 dpi, however, 800 x 600 dpi will also work.
If your screen cannot handle this, please navigate using our Site Map page and your browser.
Copyright © 1999-2018 [ER Computer Services]. All rights reserved.