Caterer Extrordinaire


Accounts Receivable Screen
The Receivable screen is a matter of point and click.
Choose the invoice from the outstanding list.

Then choose the Add Payment button.

Confirm the invoice amount (or override it) and enter a reference number.

Click Next to accept the entry and advance to the next payment.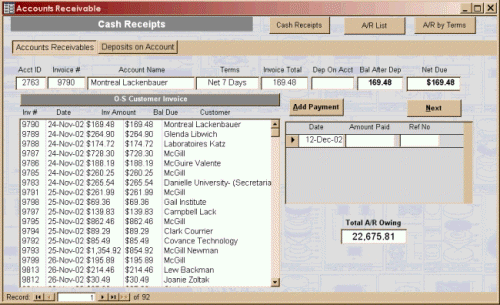 When you choose Deposits on Account button, that screen will be shown.
When all receipts are posted, choose the Cash Receipts button for the daily receipts report.
Download our Information Package about this program

Have a problem and can't find the answer on our site? Contact us at help@ ercomputers.com.
Want to know what people say about us? Visit our Comments page.
Let us know what you think about our site or want to offer any suggestions.
Contact us at esurkes@ ercomputers.com
Please do not use these addresses for solicitations, that is not what email is intended for.
We will not respond to advertisement. Thank you.
Thanks for visiting
ER Computer Services

These links will lead you into our framed website. It is best viewed at a screen resolution of 1024 x 768 dpi, however, 800 x 600 dpi will also work.
If your screen cannot handle this, please navigate using our Site Map page and your browser.
Copyright © 1999-2018[ER Computer Services]. All rights reserved.