| | | |
| --- | --- | --- |
| + | Caterer Extrordinaire | |
One of the features of this database is the automatic calculation of daily production requirements.

Important information such as shelf life (Fresh Days) and weight (or volume) per unit of measure must be taken into consideration. For this reason we added an area where these considerations could be recorded. If supplies do not qualify for the extra information, the section is simply ignored.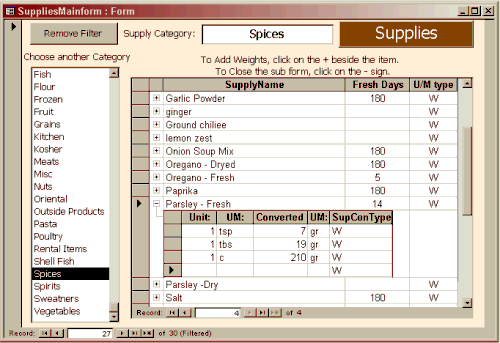 Print our Information Package about this program


Have a problem and can't find the answer on our site? Contact us at help@ ercomputers.com.
Want to know what people say about us? Visit our Comments page.
Let us know what you think about our site or want to offer any suggestions.
Contact us at esurkes@ ercomputers.com
Please do not use these addresses for solicitations, that is not what email is intended for.
We will not respond to advertisement. Thank you.
Thanks for visiting
ER Computer Services

These links will lead you into our framed website. It is best viewed at a screen resolution of 1024 x 768 dpi, however, 800 x 600 dpi will also work.
If your screen cannot handle this, please navigate using our Site Map page and your browser.
Copyright © 1999-2018 [ER Computer Services]. All rights reserved.