| | | |
| --- | --- | --- |
| | Eyewear Management | |
Entering purchases is as easy as ABC. Begin by choose the supplier, then enter the invoice number and receipt date. With the Multi-Location version, you also enter the delivery location. Finally, enter the prescription number. Once the prescription number is entered, the line items are retrieved from the Prescription module. This completes the process; all that is left to do is verify (and correct, if necessary) the information.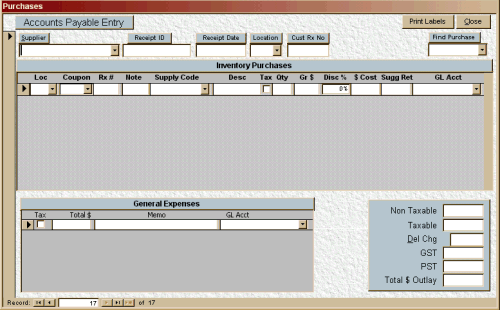 Print our Information Package about this program.
Adobe Acrobat Reader and WinZip are required.
If you do not have this program on your computer,
please choose a link below to download your free copy.

Thanks for visiting
ER Computer Services

These links will lead you into our framed website. It is best viewed at a screen resolution of 1024 x 768 dpi, however, 800 x 600 dpi will also work.
If your screen cannot handle this, please navigate using our Site Map page and your browser.
Current Awards (2004)
Copyright © 1999-2023 [ER Computer Services]. All rights reserved.