| | | |
| --- | --- | --- |
| | Eyewear Management | |
Due to the nature of the optometry business, there should, theoretically, not be any receivables. However, should any amounts remain outstanding, the Accounts Receivable module will contain them.
The receivable screen is split into three sections.
Actual A/R (invoiced orders), Deposits on Account, and Exam Payments.
The module opens to the Accounts Receivable page, which deals with unpaid invoiced orders.
Choose which invoice is being paid from the outstanding list.

Choose the 'Add Payment' button.

Confirm the invoice amount, or override it, and enter a reference number.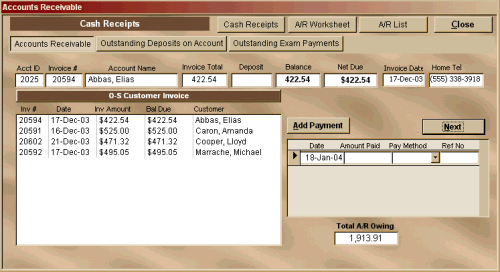 The other pages are discussed here:
Deposits on Account Outstanding Exam Payments
When all receipts are posted, click the Cash Receipts button for your daily report.
Print out a clean Receivable Report

Print our Information Package about this program.
Adobe Acrobat Reader and WinZip are required.
If you do not have this program on your computer,
please choose a link below to download your free copy.

Thanks for visiting
ER Computer Services

These links will lead you into our framed website. It is best viewed at a screen resolution of 1024 x 768 dpi, however, 800 x 600 dpi will also work.
If your screen cannot handle this, please navigate using our Site Map page and your browser.
Copyright © 1999-2023 [ER Computer Services]. All rights reserved.