| | | |
| --- | --- | --- |
| | Eyewear Management | |
All outstanding orders are shown here. Should you want to review a prescription, double click on the corresponding number. Supplier confirmation numbers can be entered here.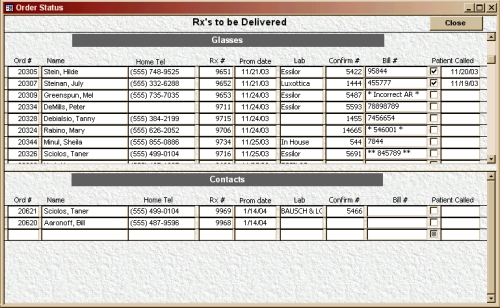 Special attention should be placed on the "Bill #" field. If a supplier's product has been deemed unacceptable and has to be redone, the reason is displayed and surrounded by single asterisks (*). Once that invoice is posted, the invoice will also be surrounded by the single asterisks.

Should a prescription require a second redo, it will be surrounded by double asterisks (**).

Once a patient has been called, the operator chooses the checkmark for that patient. The date will automatically be inserted.

When a prescription has been invoiced, it is removed from the list.

Print our Information Package about this program

Thanks for visiting
ER Computer Services

These links will lead you into our framed website. It is best viewed at a screen resolution of 1024 x 768 dpi, however, 800 x 600 dpi will also work.
If your screen cannot handle this, please navigate using our Site Map page and your browser.
Copyright © 1999-2023 [ER Computer Services]. All rights reserved.