| | | |
| --- | --- | --- |
| | Unique Products | |

This particular project was fascinating due to the very nature of the business.

Not only did they have to contend with unique label situations, where every requirement was different, they had the added complication of carrying stock items.

This screen is the summary of the order entry screen.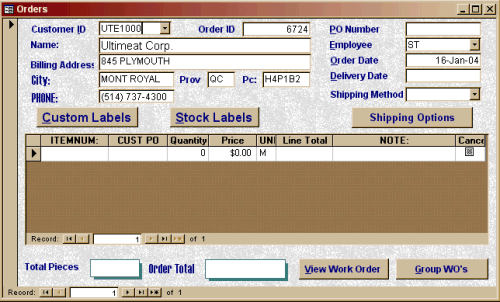 If a change in quantity or price is necessary, these could be altered from here. If details modifications were required, a double click on the entry line would open the detail screen.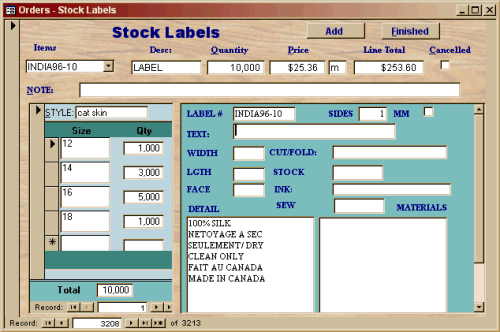 This screen allows the user to modify any part of the label line item.

If you will notice, there are actually 5 related tables involved in this process. Order information, the written description of the label, any color requirements, style information and finally sizing information.
| | | |
| --- | --- | --- |
| | | |

Thanks for visiting
ER Computer Services

These links will lead you into our framed website. It is best viewed at a screen resolution of 1024 x 768 dpi, however, 800 x 600 dpi will also work.
If your screen cannot handle this, please navigate using our Site Map page and your browser.
Copyright © 1999-2018 [ER Computer Services]. All rights reserved.