| | | |
| --- | --- | --- |
| | Jokes | |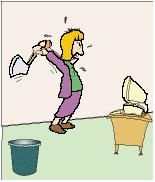 Have you ever felt like taking an ax to your machine?? Well, your not the only one, we all have felt like kicking, punching and totally destroying our machines.
A good sense of humor goes a long way when it comes to this medium. Patience and laughter will reap the rewards.

Our Basic area is a non-profit entity of ER Computers.
If it has helped you, why not consider helping us by making a small donation to insure it's survival.
Without your support, we simply would not exist.
Thank you in advance for your assistance.

Thanks for visiting
ER Computer Services
Copyright © 1999-2018 [ER Computer Services]. All rights reserved.