| | | |
| --- | --- | --- |
| | Jokes | |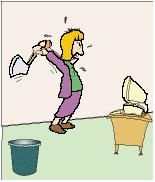 Have you ever felt like taking an ax to your machine?? Well, your not the only one, we all have felt like kicking, punching and totally destroying our machines.
A good sense of humor goes a long way when it comes to this medium. Patience and laughter will reap the rewards.

Our Basic area is a non-profit entity of ER Computers.
If it has helped you, why not consider helping us by making a small donation to insure it's survival.
Without your support, we simply would not exist.
Thank you in advance for your assistance.

Thanks for visiting
ER Computer Services

These links will lead you into our framed website. It is best viewed at a screen resolution of 1024 x 768 dpi, however, 800 x 600 dpi will also work.
If your screen cannot handle this, please navigate using our Site Map page and your browser.
Copyright © 1999-2023 [ER Computer Services]. All rights reserved.