| | | |
| --- | --- | --- |
| | My Perfect Planner | |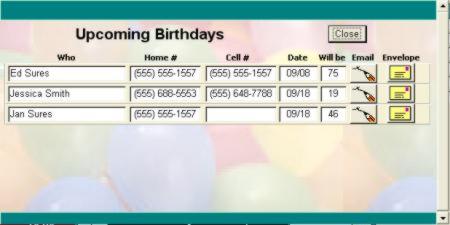 The first thing you see when My Perfect Life Planner opens is the birthday reminder screen.
It offers you the contact's home and cell numbers, and email address.
Choose the envelope button if you want to print the envelope for their birthday card.
The Birthday Reminder section is part of a greater program called My Perfect Planner.
If you do not see a listing of the different aspects of My Perfect Planner on the left side of your screen,
click here to enter the main page.

Thanks for visiting
ER Computer Services

These links will lead you into our framed website. It is best viewed at a screen resolution of 1024 x 768 dpi, however, 800 x 600 dpi will also work.
If your screen cannot handle this, please navigate using our Site Map page and your browser.
Current Awards (2004)
Copyright © 1999-2023 [ER Computer Services]. All rights reserved.