| | | |
| --- | --- | --- |
| | My Perfect Planner | |
If you are anything like us, your Window's Address Book is a mess. Because of this we decided to give you an opportunity to clean up or eliminate entries before you complete the import procedure.
Contacts are shown to you in alphabetical order.
Slide your mouse over the image to see the modified record.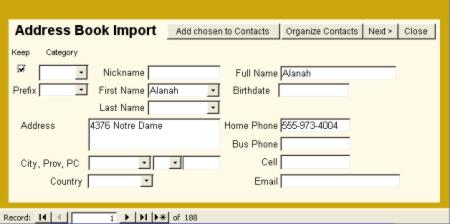 You don't have to go through your entire Address Book at one time before working the program. You can complete the cleanup procedure in several sessions.
All contacts are initially set to Keep.
In the example above, there are 188 contacts we want to go through.
If you do not want the individual to remain as part of your contact list, remove the check mark. You will automatically be moved to the next contact.

Your starting position is in the Category field. Decide what group the individual belongs to. Choose one of the available choices or create your own grouping. (e.g. family member, business associate, any organization you belong to).

Review/modify any information on each of the contacts that you plan to keep. When satisfied choose the Next button.
The 'Organize Contacts' button opens the Contact Screen where you can attach relatives to the entries.
The Importation of Addresses is part of a greater program called My Perfect Planner.
If you do not see a listing of the different aspects of My Perfect Planner on the left side of your screen,
click here to enter the main page.

Thanks for visiting
ER Computer Services

These links will lead you into our framed website. It is best viewed at a screen resolution of 1024 x 768 dpi, however, 800 x 600 dpi will also work.
If your screen cannot handle this, please navigate using our Site Map page and your browser.
Current Awards (2004)
Copyright © 1999-2023 [ER Computer Services]. All rights reserved.