| | | |
| --- | --- | --- |
| | My Perfect Planner | |
Contact information is displayed and edited on this screen. Information can be imported from your Windows Address Book or entered manually.
The screen is divided into several parts.
| | |
| --- | --- |
| The list on the left offers you a way to see your contacts listed alphabetically, by first name. | When you click on a name, the right side of the screen will move to that person (or to the person who was coded as the head of the family, if the contact is not a main entry). |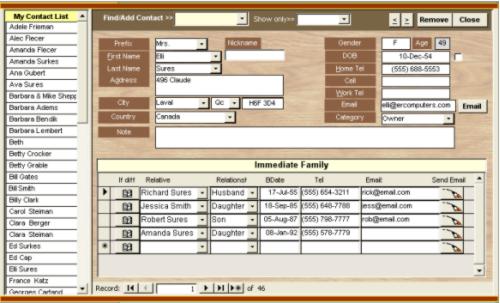 The Contact section is part of a greater program called My Perfect Planner.
If you do not see a listing of the different aspects of My Perfect Planner on the left side of your screen,

click here to enter the main page.

Thanks for visiting
ER Computer Services

These links will lead you into our framed website. It is best viewed at a screen resolution of 1024 x 768 dpi, however, 800 x 600 dpi will also work.
If your screen cannot handle this, please navigate using our Site Map page and your browser.
Current Awards (2004)
[ER Computer Services]. All rights reserved.