Although there are only 4 buttons visible on the toolbar, there are a multitude of others available.

To set others, point to the toolbar area, right mouse button click and choose Properties.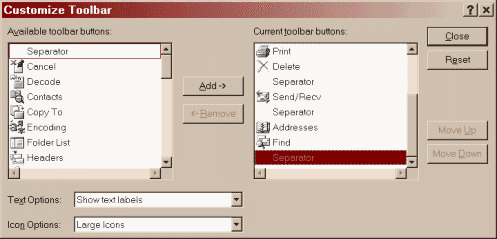 Go through the list on the left. You can double click on an option to add it to the toolbar or choose the option and then click on the Add button.
If you want to remove a feature, choose it from the list on the right and then click on the Remove button.
You can also turn off the text labels on the buttons by choosing a different option from the Text Option drop down list.
If you want to reduce the physical size of the toolbar, choose a different option for the Icon Options.
When you are happy with the modifications, choose the Close button. The dialog box will close and bingo, bango, you have just customized your Email toolbar.